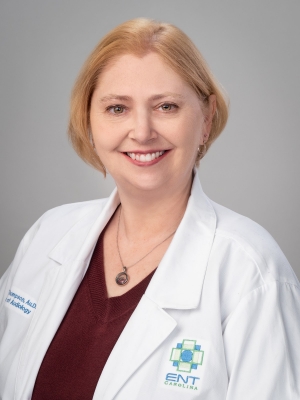 Dr. Carolyn Thompson has been at ENT Carolina since 2009.
She received her Bachelor's degree from the University of Maryland, her Master's degree from the University of Virginia, and her Doctor of Audiology degree from AT Still University in 2006.
She holds her state licensure through the North Carolina Board of Examiners for Speech-Language Pathologists and Audiologists. She also holds her board certification through the American Board of Audiology.
Dr. Thompson specializes in hearing evaluations and hearing aid fittings for adult and pediatric patients.
She lives with her daughter in Denver and enjoys vacationing and spending time with her family.
Our Belmont Office
Belmont, NC
209 Park Street, Ste. 500
Belmont, NC 28012
Fax: 704-868-8493
Monday:

8:00am - 5:00pm
Tuesday:

8:00am - 5:00pm
Wednesday:

8:00am - 5:00pm
Thursday:

8:00am - 5:00pm

Our Gastonia Office
Gastonia, NC
2520 Aberdeen Blvd.
Gastonia, NC 28054
Fax: 704-868-8493
Monday:

8:00am - 5:00pm
Tuesday:

8:00am - 5:00pm
Wednesday:

8:00am - 5:00pm
Thursday:

8:00am - 5:00pm
Friday:

8:00am - 5:00pm