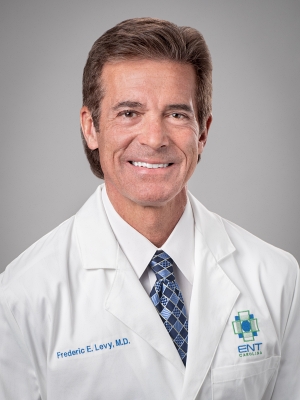 Dr. Frederic E. Levy is a native of Chicago, Illinois, and a graduate of the University of Illinois in Champaign where he majored in biology.
He earned his medical degree from Rush Medical College in Chicago.
Having grown up in Chicago, Dr. Levy is a huge fan of Chicago sports teams and played most team sports. He participated in track and field in high school and currently runs 50-60 miles per week. Along with other physician friends, he runs 15 races, including 5 marathons, per year.
Music is also a part of Dr. Levy's life. He plays bass guitar and has been a member of various bands since he was fifteen years old. His most recent being a classic rock band named "Sonic Tonsil".
Dr. Levy is a proud father of a UNC Chapel Hill graduate and an Appalachian State University graduate.
Certified:

American Board of Otolaryngology
Residency:

Otolaryngology/Head and Neck Surgery, University of Minnesota Medical Center
Internship:

General Surgery, Hennepin County Medical Center, Minneapolis, MN
Medical School:

Rush Medical College, Chicago, IL
Undergraduate:

University of Illinois, Champaign, IL
Our Belmont Office
Belmont, NC
209 Park Street, Ste. 500
Belmont, NC 28012
Fax: 704-868-8493
Monday:

8:00am - 5:00pm
Tuesday:

8:00am - 5:00pm
Wednesday:

8:00am - 5:00pm
Thursday:

8:00am - 5:00pm

Our Gastonia Office
Gastonia, NC
2520 Aberdeen Blvd.
Gastonia, NC 28054
Fax: 704-868-8493
Monday:

8:00am - 5:00pm
Tuesday:

8:00am - 5:00pm
Wednesday:

8:00am - 5:00pm
Thursday:

8:00am - 5:00pm
Friday:

8:00am - 5:00pm