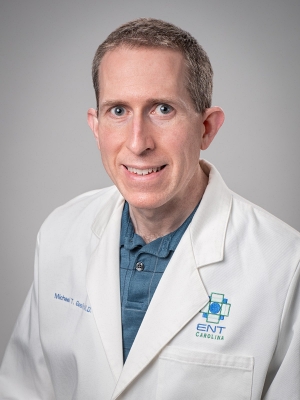 Dr. Michael T. Gaslin began his education at Cornell University where he studied electrical engineering.
He continued to medical school at SUNY Upstate Medical University and completed his Otolaryngology residency at Thomas Jefferson University Hospital.
Dr. Gaslin joined ENT Carolina in 2007 and sees patients in Gastonia and Belmont. His specialties include treatment of voice disorders, allergies, sinus infections, hearing loss, ear infections and other conditions affecting the ear, nose, and throat.
Dr. Gaslin's philosophy is to thoroughly evaluate his patients' medical conditions and personalize each patient's care. He has been recognized for his care at CaroMont Regional Medical Center where he received the Physicians Recognition by Nursing (PRN) award. He has served as Chief of Staff of CaroMont Regional Medical Center and is currently Medical Director of CaroMont Specialty Surgery.
When not taking care of his patients, Dr. Gaslin enjoys spending time with his family, reading, playing piano, cooking, and looking after the family pets.
Certified:

American Board of Otolaryngology, 2008
Residency:

Otolaryngology-Head and Neck Surgery, Thomas Jefferson University Hospital, Philadelphia, PA
Clinical Research Assistant:

Dept. of Anesthesiology, Cornell Medical College, New York, NY
Medical School:

SUNY Upstate Medical University, Syracuse, NY
Undergraduate:

Bachelor of Science in Electrical Engineering, Cornell University, Ithaca, NY
Our Belmont Office
Belmont, NC
209 Park Street, Ste. 500
Belmont, NC 28012
Fax: 704-868-8493
Monday:

8:00am - 5:00pm
Tuesday:

8:00am - 5:00pm
Wednesday:

8:00am - 5:00pm
Thursday:

8:00am - 5:00pm

Our Gastonia Office
Gastonia, NC
2520 Aberdeen Blvd.
Gastonia, NC 28054
Fax: 704-868-8493
Monday:

8:00am - 5:00pm
Tuesday:

8:00am - 5:00pm
Wednesday:

8:00am - 5:00pm
Thursday:

8:00am - 5:00pm
Friday:

8:00am - 5:00pm